Overview
Kiseki is a character in Skyrealm. Her name as a human was Jiko.
Appearance
Kiseki has rose pink hair tied in a ponytail and wears two hair clips on her right side of her fringe. She has golden eyes and light skin. She has white wings. She wears a purple flower headdress and a black dress with black flats. When she was human she wore a grey 3/4 sleeve sweater with a teal shirt, jean shorts, black boots and black socks.
Personality
She is self doubting and nervous as a human, her human name, Jiko, meant "accident" and it is how she felt she was. She gains some confidence as she gets closer to Angel in her Kridlo Lidi form and renames herself Kiseki, meaning "miracle".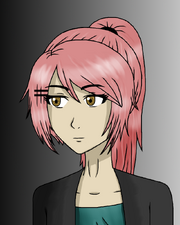 Past
As a human, she was close to Angel. Damon killed her to mess with Angel's mind, and that is how she ended up being a Kridlo Lidi. Damon did not anticipate Angel surviving and reuniting with her friend again.
Sprite
| Sprite | Icon |
| --- | --- |
| | |
| Human | Icon |
| --- | --- |
| | |
Appearances
| Game | Image |
| --- | --- |
| She was originally from the cancelled project Spectrum by MikuLeRoux | |
| She was featured in the commercial game Vindictive Drive as an NPC | |
| Her shirt symbol from her human form is featured on the Netgear in Vindictive Drive | |
Community content is available under
CC-BY-SA
unless otherwise noted.