[WARNING: THIS WIKI CONTAINS SPOILERS!]

Welcome to Reka
This wiki is about the Sci-Fi/Psychological game
Akiyo
. You can help by editing pages and fixing spelling errors, or adding content. This game is made by the developer
MikuLeRoux
, with the support of
Secret Society Games
.
About Akiyo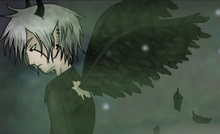 Akiyo is set in a realm known as Reka, which is hosted by Kridlo Lidi. Kridlo Lidi are defenders of humans on Earth. Their defining feature is a pair of white wings resembling angels, but a bit smaller. They defend human lives from ending before their set time, which can only happen from a demon's will. They train to fight these demons. They do not remember ever being human, but each Kridlo Lidi was once a human who died at the hands of a demon on Earth. 
The story follows Akiyo, a Kridlo Lidi cursed with demon blood, who remembers the face of a girl from his past life. It is about his struggles with his demon blood, overcoming his isolation and defending not only this girl, but all of Reka, from Damon, the most powerful Demon known to Kridlo Lidi.  
Important Articles
Rules, Guide and Help
Akiyo
Start Contributing
Discover pages, and edit the ones you like! Do you want to create a new page? Just fill in the name below and click "Create"!
Currently you need an account to edit articles on this wiki, but, making an account is simple and free!
Tell Your Friends
Tell all fans of
Akiyo
! Let's build a friendly community and grow this encyclopedia of the world of Reka.
Community content is available under
CC-BY-SA
unless otherwise noted.